The two "extreme temperature" seasons – winter and summer – are the ones that tend to cost homeowners the most when it comes to their energy bills. In winter, homeowners use their heating systems more often, and that's a major reason why their energy consumption goes up.
However, it's crucially important to evaluate how well your home retains heat once you've spent the time and money to warm it up. That's why most fall home maintenance tips that will slash your energy bill are aimed at improving your home's energy efficiency.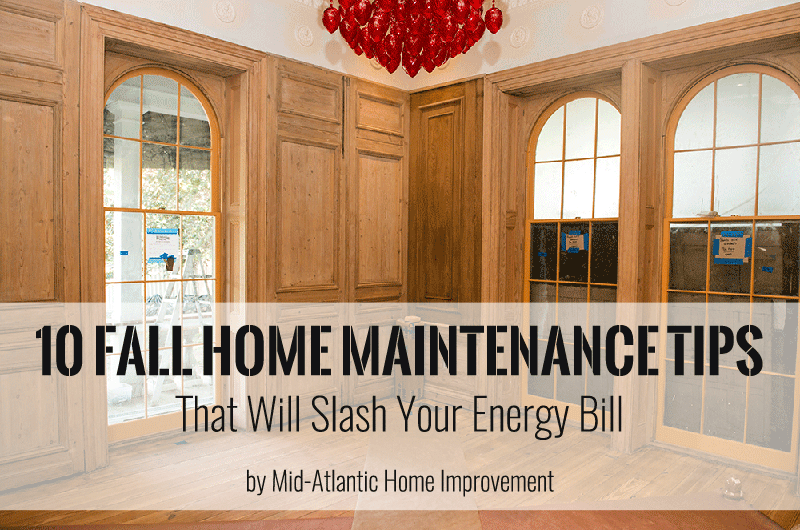 Use These Winning Strategies to Reduce Home Energy Costs This Fall
Here are 10 proven ways to make small changes and fixes around your home that can add up to big energy savings:
Install a programmable thermostat. These inexpensive devices allow you to create custom home heating programs that warm your home to precise levels at peak times while saving energy when extra warmth isn't needed. And remember, for every degree you lower the thermostat during the heating season, you'll save between 1 and 3% of your heating bill.
Add/upgrade insulation in key areas (including attics, basement ceiling, exterior walls and around electrical sockets) can help reduce your heating costs by keeping a more warm air inside the home and inhibiting thermal transfer. Attics, basements, and walls adjacent to your home's exterior should all be carefully checked to make sure they're adequately insulated. If they're not, valuable heat will just leak right through.
Check your caulking and weather-stripping. Cold air seeping in and warm inside air leaking out accounts for major energy waste – simple leaks can sap home energy efficiency by 5% to 30% a year. Weatherizing your home seals off drafty areas around doors and window frames, where cold air can leak in and warm air can escape. Seal off drafty doors with rubber strips, or install new storm doors to help energy efficiency.
Tune up your heating system. Annual furnace tune-ups keep your heating equipment running as efficiently as possible, which means they do a better job of generating warmth while using less energy. Replace filters monthly during heating season – dirty filters restrict airflow and increase energy demand. Replacing them regularly will improve your furnace's efficiency and longevity saving your money along the way. Have a licensed technician perform a check of your furnace to make sure it's operating as efficiently and safely as possible and is equal to the challenge of keeping your home warm all winter. Keeping your furnace clean, lubricated and properly adjusted will reduce energy use, saving up to 5% of heating costs.
Seal cracks, gaps and leaks. Fireplaces, ridge vents, electrical outlets, light fixtures, eaves, ducts, fans, vents, and wall penetrations for plumbing infrastructure are all common culprits when it comes to cracks, gaps, and leaks. Check these areas and seal the leaks. You could cut your home's energy usage by as much as 10 percent.
Dial down your water heater. By default, water heaters are usually set to 140 degrees. That's far hotter than you're ever likely to need, and it also creates a safety hazard. Instead, dial it back to 120 degrees to save 6 to 10 percent on your water heating costs. You can also wrap water heaters and exposed indoor pipes that transport hot water with insulation to help prevent any energy loss.
Use window treatments strategically. Thick curtains create an added barrier that traps warmth in your home during the winter, just as they ward off heat gain during the summer.
Upgrade your windows and doors. Energy Star-rated windows and doors can also go a long way toward inhibiting heat transfer. If your windows and doors are old, thin, and drafty, chances are it will make more financial sense to replace them.
Change the direction of your ceiling fans. Make sure your ceiling fans are set to rotate clockwise during winter. This will push warm air down, helping it circulate through the lower reaches of the room more easily. Changing the direction of your ceiling fans will circulate the air pooled near the ceiling back down – cutting your heating costs as much as 10%. Try out this tip in rooms with high ceilings and you'll see a major difference without adjusting the thermostat even a single degree.
Get a home energy audit. This is the most comprehensive way to get a complete view of where you should focus on making improvements. Home energy audits, as conducted by professionals, detail exactly how and exactly where energy is being used – and wasted.
Most of these tasks can be completed in just a short time, and many don't require any specialized knowledge or advanced DIY skills. However, for best results, leave the demanding tasks to certified local professionals. The small investment you make today can add up to sustained savings tomorrow, and for many winters to come.
If you need help preparing your home for winter, call Mid-Atlantic Home Improvement. We are a family owned and operated Virginia home improvement contractor with over 40 years of experience.

Call (804) 647-0649 or (800) 852-4142 or Request Your Free Quote below
Create a home you want
Get your no-obligation quote!