DIY experts say fall and spring are the two major home maintenance seasons, with the former being especially important – if you overlook your autumn maintenance tasks, you risk leaving your home vulnerable to the many problems that wild winter weather can bring. These problems can be very expensive to repair, to say nothing of the inconveniences they can cause.
The smart move is to get a jump on your fall maintenance during the summer, when the days are still long and the weather warm.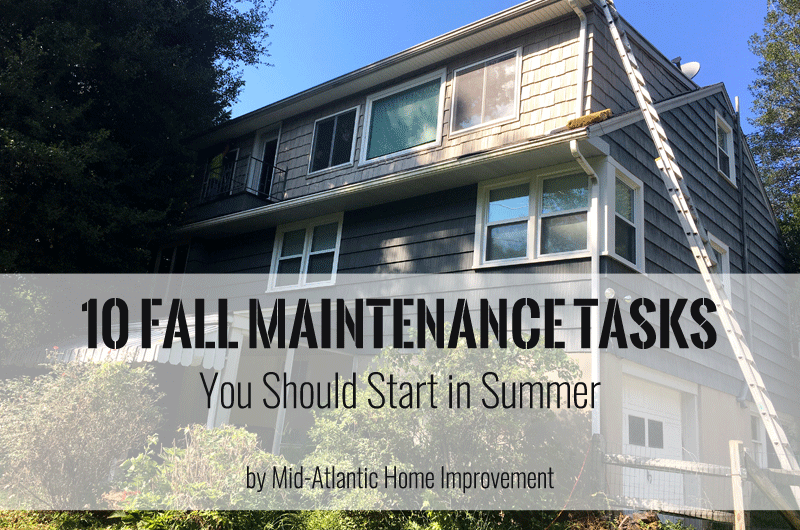 Get Started in Summer with These Essential Fall Home Maintenance Tasks
Here are 10 high-priority fall maintenance tasks you should start during the summertime:
Inspect your roof. Check your roof carefully for signs of wear and tear, like missing or damaged shingles. If you don't feel comfortable climbing onto your roof, grab a pair of binoculars and use them to inspect all visible parts of your roof from a distance. Or call a roofer.
Service your furnace. Have a professional technician come in and perform seasonal heating system maintenance. Most home heating specialists aren't busy in summer, meaning it should be easy to book an appointment. Your furnace will run more reliably and economically if it's properly serviced, so this is an investment that can pay dividends.
Clean your chimney. If you've got a fireplace, now is the time to make sure the remnants of last winter's fires are all cleared out. It's also a good idea to get a head start on restocking your firewood, especially if you cut it yourself.
Insulate exposed pipes. Pipe bursts are one of the most feared wintertime home mishaps, as they are a nightmare to clean up after. A key way to avoid them is to insulate your exposed pipes so trapped water won't freeze and cause a burst.
Prune your bushes and trees. Well-trimmed trees, shrubs and hedges don't just look better – they also grow better in the long run. By pruning now, you'll give them the advantage of continued health through the rest of the growing season and put them in great shape to come back strong next year.
Check your snow removal gear. Is your snow blower functioning properly? Are all your snow shovels in ship-shape and ready for another winter? Now is the time to find out.
Check your weatherstripping. Quality, properly applied weatherstripping adds a vital layer of protection around windows and doors, helping keep heat inside during the winter. Give yours an upgrade before fall arrives, since you never quite know when you'll need to turn your heat on for the first time.
Clear your gutters. You'll need to do this again in the late fall to clear out autumn's remnants, but a preliminary cleaning effort now will make that task less time-consuming.
Measure your slope. If you haven't done so in a while, check your property's grade rate to make sure it is adequately sloped to guide water away from your home when the snow melts in springtime. Erosion can affect property grading over time, so if it's been a few years, you're better safe than sorry.
Check your detectors. Make sure your smoke and carbon monoxide detectors are in good working order and have fresh batteries. During the winter, your windows are closed and your combustion appliances are on more often. That's part of the reason it's especially important to make sure your CO2 detector is functioning properly.
Take care of these tasks while the weather is still warm and sunny and your home will be in great shape heading toward winter.
If you need help preparing your home for winter, call Mid-Atlantic Home Improvement. We are a family owned and operated Virginia home improvement contractor with over 40 years of experience. Whether you need your furnace serviced, gutters repaired, or water damage handled, we're here to help!

Call (804) 647-0649 or (800) 852-4142 or Request Your Free Quote below
Let Us Handle Your Next Project
Get your no-obligation quote!