Kitchens are among the most visible areas of a home, and they can have a profound effect on the property's resale value. These are two of the leading reasons why kitchen renovations are one of the most popular home improvement projects.
Budgets are always a factor when it comes to renovating a kitchen. Knowing where to spend and where to save is one of the keys to success.  The good news is, you should be able to recoup most of your remodeling costs at resale.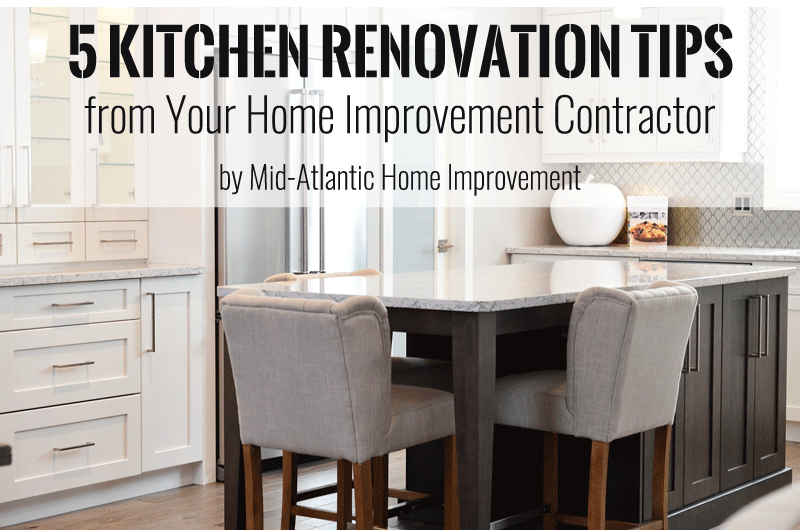 Every kitchen renovation project should start with a thorough plan. There are many things to consider including remodel goals, budget, looks and functionality.
It may seem daunting at first, but once you find a great local contractors for the job, they can guide you through the process and even offer insider tips on how to maximize storage, smart substitutions for high-end materials.
The five tips below, curated from leading professionals, will help you get started!
5 Kitchen Renovation Tips from Your Home Improvement Contractor
A quick kitchen facelift, or a full reboot?
Before you begin, decide whether you want to focus on cosmetic improvements that improve the look of the space, or a full renovation that actually changes the configuration of your kitchen. Cosmetic improvements are cheaper and easier to carry out, but if your kitchen suffers from a lack of functionality, you might benefit more in the long run by investing in a complete reboot.
If you decide to just spruce up your kitchen with a quick facelift, here are some suggestions for areas to focus on:
Cabinet exteriors and hardware
Countertops
Chrome and water fixtures
Flooring
Lighting
Refinishing your cabinetry, adding new cabinet knobs and hardware, and replacing your aging countertop or dull backsplash can make a dramatic difference for a relatively small investment. The same is true of your chrome surfaces, water fixtures, and flooring. Upgrading your lighting can transform the feel of the space in exciting ways.
Invest in quality appliances
If you do decide to invest in a more significant renovation, replacing your appliances is the first upgrade you should consider, especially if your existing ones are old or inefficient. Renovation and interior design experts usually say that the stove serves as the centerpiece of your kitchen, as far as appliances go. It will attract attention, so it's an area where you may want to give appearance and performance equal amounts of consideration.
Upgrading to new appliances also holds the potential to save you a great deal of money on energy and operational costs. Technological advancements that improve performance and energy efficiency can make a substantial difference. These savings can really add up, or even cover the retail price of the appliances you bought.
Functionality first
In kitchens, efficiency rules. Before committing to any design plan, think carefully about how you use the space when you're in it, and base your ideas on ways to improve functionality. The fridge should be within easy reach of your main food preparation area, for example. Flooring and backsplashes should be made from resilient, easy-to-clean materials like tile.
Remember the "golden rule" for kitchens
On a related note, remember the "golden rule" for kitchen design: the main sink and faucet should form a tight, compact triangle with your stove and fridge. These three elements dominate usage patterns in most kitchens, so be sure to pay careful attention to how they work together as you plan and execute your remodeling.
Your remodeling contractor can rearrange the placement of your appliances, reconfigure your water and electrical lines, add or remove walls/cabinets, etc. If it can be imagined, it most likely can be done. Plan the smartest kitchen layout, then calculate if you have the resources to get there.
Lighting things up
Recessed lighting is trendy in kitchens, but there are other configurations that may actually be more functional. The key is to give yourself plenty of task lighting, or bright lights that effectively illuminate the areas where most of your food prep takes place. Overhead lighting is an excellent option, and there are plenty of ways to incorporate style and flair.
Finally, remember that cabinets can interfere with lighting, so adding some lights below your wall-mounted storage areas can really improve things if you have cabinets hanging over your counter space.
Whether you need to upgrade your kitchen, add a bath or paint your interiors, call Mid-Atlantic Home Improvement. We are a family owned and operated Virginia home improvement contractor with over 40 years of experience in residential construction & home improvement.

Call (804) 647-0649 or (800) 852-4142 or Request Your Free Quote below
Build the kitchen of your dreams!
Get your no-obligation quote!