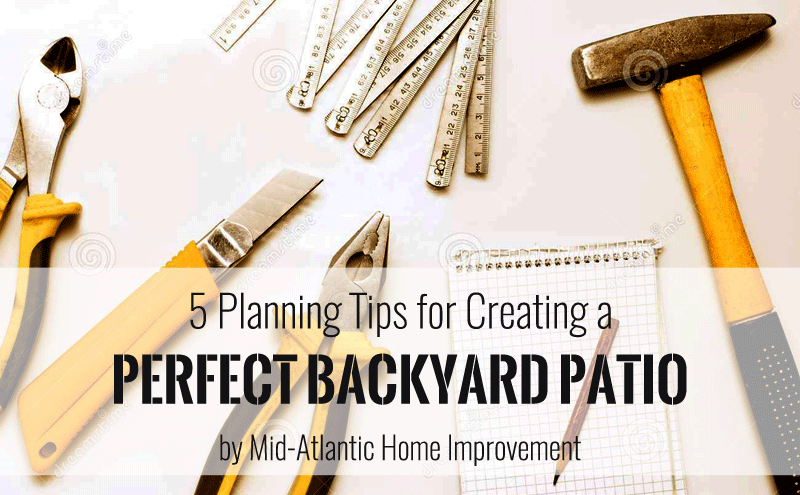 A backyard patio adds charm and value to your home, but without careful planning, it can also add headaches. Forethought is the key to a smooth construction process, so be sure to consider each of these important questions before calling your home improvement contractor.
What is the patio for?
Broadly speaking, patios serve one of two functions: they're either a gathering space, or a getaway space. What will the purpose of your patio be? Are you going to use it to read and relax outdoors during the summer? Do you host a lot of parties and get-togethers?
Answering these questions will also give you an idea of the best location for your patio. While most are located just outside the kitchen, a gateway patio can be more remote, toward the back of the property. Consider how much sun and shade you want to have on the patio and how private the spot will be. Finding the best part is key to the functionality of your new patio!
What is your budget?
You can't proceed with backyard patio planning until you've established a budget, and especially its upper limit. Creating and sticking to your budget is essential. So is being realistic – separating your wants from your needs is critical in staying within your budget.
When it comes to budgeting, consider material and labor costs, taxes, construction fees,  cleaning materials, and any extra expenses you may have thought of initially.
As you consider the financial side of things, keep in mind that a backyard patio is an investment in your home. A well-built, high-quality patio will add to its resale value, and in some cases, it may even essentially pay for itself in the form of property appreciation.
A couple general rules of thumb to keep in mind as you plan your budget:
Don't commit more than you can comfortably afford.
Do not go into credit card or loan debt to build a patio.
Take advantage of payment plans if contractors offer them, but be careful about interest rates and calculate total costs carefully.
What will its size and shape be?
Once you've figured out your budget and how you want the patio to function, you can start to get into some design specifics. Start with the basics – take a few measurements to determine how big your dream space would be. Experts recommend a minimum of 25 square feet of patio per person and a minimum length of 16 feet.
Also, pay particular attention to your property's landscape features, as they may play an influential role in the outcome of the final product. For example, if your backyard has a steep downhill slope, you'll have to incorporate stability and foundation features into the patio design.
If your property has landscape features that demand specific engineering solutions, it's best to consult with a professional.
What material(s) will you use?
It's smart to choose materials that complement the color and style of your house. Your budget will further influence your choice, but it's good to have a solid working understanding of the relative merits of the various popular materials:
Concrete is an economical option, and works very well in level spaces. It's easy to upkeep and will maintain its original look for many years. Additionally, if your backyard allows for only a small patio, concrete is an excellent option due to its versatility: curves, stenciled designs, or incorporating colors is an easy way to add visual appeal to your backyard.
Pavers and interlocking bricks cost a little more, but can create striking designs that match the existing exteriors of brick homes. They're also low-maintenance and easy to clean. The initial cost may be higher than other options, but you'll save in the long run by not having to stain or seal it continuously.
Natural stone has strong visual appeal, but it can be prohibitively expensive, depending on how you source it. If you're working with a generous budget, it's well worth careful consideration.
Wood is one of the most popular options, and while it's relatively easy to build a wood patio, they do require more maintenance. You'll need to treat the wood annually and be proactive about keeping it clean, or choose composite wood that is durable and practically maintenance free.
What about landscaping & backyard features?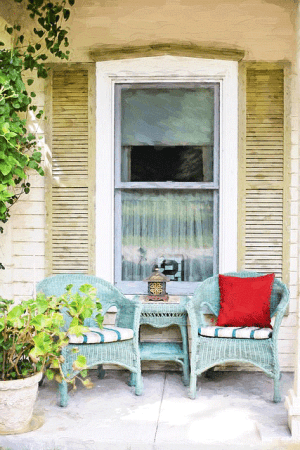 Finally, think about how you're going to arrange your backyard's landscape elements to complement your new patio.
Break the patio up with greenery  incorporating containers in grouping of different size and height.
If practical, trees, shrubs and outbuildings like trellises and gazebos can add shade and ambience to your backyard, making it a more pleasant place to spend a beautiful day or evening.
For more intimacy and to create a central conversation area, add a focal point to your patio, such as a water fountain, fireplace or fire pit.
Finally, transform your patio to the next level using creative lighting and unique decorative ideas.
When it comes to beautifying your garden with a cozy and functional patio, careful planning goes a long way. To turn your patio dream into reality, call Mid-Atlantic Home Improvement, a family owned and operated Charlottesville & Culpeper VA home improvement contractor with over 40 years of experience in interior and exterior renovation and construction.

Call (804) 647-0649 or (800) 852-4142 or Request Your Free Quote below
Build a home you want
Get your no-obligation quote!