More and more people are working from home at least part of the time, and the trend is one of the major reasons a growing number of homeowners are looking to retrofit their houses to include home offices.
Since it often isn't possible to re-purpose premium interior space, many people end up converting their garages into their primary office space. The good news is that the home office is one of the more affordable options when it comes to converting your garage into living space.
On the surface, this would seem to make a lot of sense, particularly if the garage is being underutilized and you don't use it to store your vehicle. However, there are a lot of little practicalities to consider, which you should take into careful account during the planning stage to ensure your full satisfaction with the final outcome–and no regrets!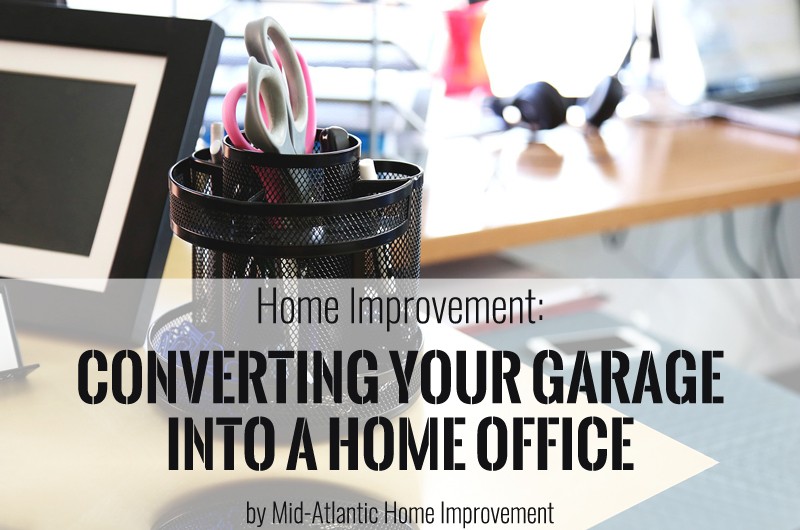 6 Essential Things to Consider when Converting Your Garage Into a Home Office
The first thing you should think about is whether or not your proposed conversion meets municipal bylaws for safety and approved building use guidelines.
If you're not sure whether your idea conforms to local laws, or what kinds of permits you'll need to acquire, contact municipal authorities and find out before proceeding. The last thing you want to do is invest time and money into a project that will wind up trapped behind bureaucratic red tape.
Once you've cleared that hurdle, you can plan your project using these proven tips and ideas to guide your thinking:
Consider costs. While actual costs vary depending on exactly what you plan to do, a good guideline is to budget for about $120+ per square foot. From insulating walls and ceiling, to installing heating and cooling, electrical service upgrade, and replacing doors and windows, there are many options to consider. Remember that such projects often run over budget, so be sure to allow for some unexpected expenses and contingencies.  Also, don't forget to set aside between $1,000 and $1,500 for a building permit as well.
Perform a survey. Create a detailed survey of the existing garage, noting the material that covers its floors and walls, where the windows are located, and the condition of the wiring and lighting. These elements will largely stay in place once the conversion is done, so you'll need to integrate them into your ideas at a very early juncture.
Think about systems. Garages, especially detached ones, often aren't serviced the same way as your main house, so you may have limited options when it comes to running water and climate controls. One of the key things you'll need is a way to keep the space warm during the winter and cool during the summer, especially if you plan to spend a lot of time in your new home office. Space heaters and window-mounted air conditioners are great alternatives, as long as their electrical needs and ventilation requirements are both taken into careful account.
What about the door? Chances are you'll want to replace the main garage door with a wall, window or other element that makes your home office feel more like a part of the house. Don't forget to include this in your budget, as it will likely be one of the costliest aspects of the project.
Create a plan. Once you've considered all these details, put pen to paper on a detailed plan. Many people find themselves in need of help at this point, so this is often a good time to involve a professional if you haven't already.
Unless you're a seasoned DIY expert, chances are you'll enjoy better results if you trust the execution of the conversion to a general contractor familiar with the ins and outs of succesful home improvement.
Once you've made up your mind regarding the scope of the project, interview local contractors and ask them to make competitive bids for the job. Jacek Kaznocha at All Roofing Solutions offers an important tip here: "The easiest way to compare multiple estimates is to make a checklist of everything you need, and have each contractor submit competitive bids based on what you want. This gives you a quick overview of which company is offering the best products and services at the lowest possible price."
Make sure you look beyond the bottom-line price. Communication between yourself and your contractor is vital – choose one with whom you have a good rapport.  Quality of work is critical, however, as garage conversion could be a substantial investment in your home's resale value. A high quality garage conversion project can return 60% or more of its initial cost.
Converting your garage into a home office is a project you don't have to tackle on your own – call Mid-Atlantic Home Improvement for help.

We are a family owned and operated Virginia home improvement contractor with over 40 years of experience in residential construction & home improvement.

Call (804) 647-0649 or (800) 852-4142 or Request Your Free Quote
Build the perfect home office!
Get your no-obligation quote!