It's essential for homeowners to properly prepare for winter's arrival. Winterizing your home helps keep your heating costs as low as possible, all while improving indoor comfort. It also helps prevent potentially costly problems from developing over the course of the winter, problems like ice dams, flashing leaks, or structural water damage.
Winterizing your home has two main objectives. First, you'll create a tight "shell" around your home to prevent heat from escaping. Second, you'll identify issues that require immediate repair so you don't have to worry about major problems developing during the cold-weather months.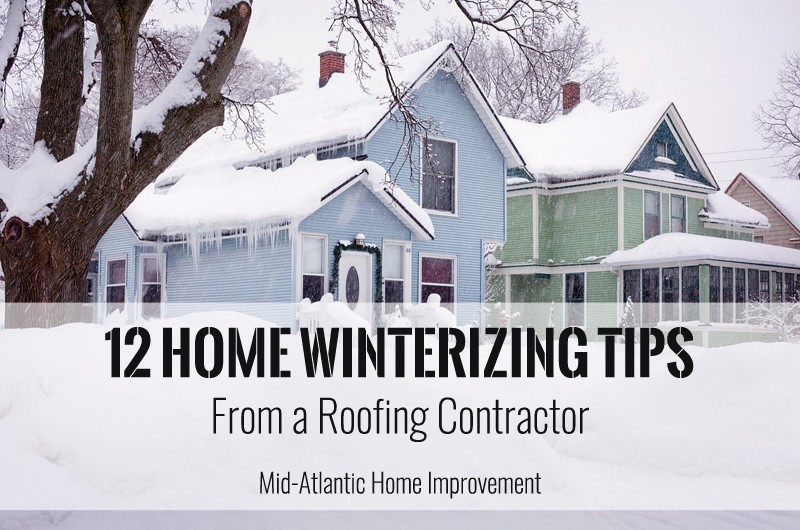 12 Home Winterizing Tips From a Roofing Contractor
From a roofing perspective, the most important home winterization tasks focus on your roof, attic, door and windows.
Here's a breakdown of what you should do to prepare your roof for winter:
Start with some basic gutter inspection and maintenance – check and clean your gutters and downspouts during the fall, then check again as winter approaches to make sure they're not clogged with debris. Common gutter issues that necessitate gutter repair include:

Blocked drainage: Pooled water can mean that the gutter hangers are installed improperly or missing, or that the gutter pitch needs to be positioned at a sharper downward angle.
Water trickling: Water that trickles between the gutter and your home's fascia may be the result of damaged gutter aprons. These small pieces attach to both the roof and the gutter, but can be repaired or replaced quite easily.
Sags, cracks and holes: The gutters, themselves, can become damaged from ice, hail and high winds.

Look for damaged or missing shingles, and repair or replace them promptly. Small holes or cracks in shingles can often be repaired with roof sealant, applied with a caulking gun. Curled shingles can often be cemented back in place. Torn shingles can also be fixed using roofing cement.
Take a look around your chimney flashing to make sure there are no loose elements that could lead to leaks.  If you find a section of flashing that looks questionable, it's better to replace it now rather than keeping your fingers crossed through the winter months. Flashing is inexpensive to replace, particularly when compared to the costs of repairing a roof damaged by a roof leak.
Moving into your attic, take care of these essential tasks:
Check your attic insulation to make sure it's adequate. This is critical if you want to avoid ice dams as lack of proper attic insulation can lead to their formation. Ice dams can cause serious and expensive to repair damage so prevention is key.
See if there are air leaks in your attic, and if so, block them out with caulking. Seal off any exposed ductwork in your attic.
If you have an attic fan, reverse its direction so it helps warm air rise instead of sending cool air down.
Assess your attic ventilation. Make sure that none of your home's exhaust vents travel through your roof soffits on their route outside. Ventilate your eaves and ridge baffles.
Cover your attic steps with a wooden crate to help prevent heat loss.
Finally, winterize your windows and doors:
Check your windows for air leaks by holding a candle or a stick of incense up to your closed windows on a windy day; if the candle flame or smoke trail flickers, your windows are leaking.
Seal off window leaks with plastic shrink wrap or rope caulking.
Add weatherstripping around the edges of your doors to help keep cold air out and warm air inside.
Consider upgrading to weather-resistant doors and windows if problems persist.
Should you detect any problems with your roof or attic that you can't fix on your own, don't hesitate to reach out to a local professional. It's very important to ensure your home is in the best shape it can be before winter arrives, so don't take chances.
Invest in a professional inspection!
The National Roofing Contractor's Association recommends semi-annual roof inspections to keep your home safe from weather-related roof damage. The fall and spring are optimum times to schedule both a roof inspection and a gutter cleaning.
An experienced roofer can provide a comprehensive repair estimate to help you in maintaining and caring for your roof. Take advantage of their skill and know-how to keep your roof performing its best for decades to come!
---
LGC Roofing is a family owned/operated NJ & PA roofing company with over 30 years of experience in residential/commercial roofing, siding, and gutters installation/repair. Call 609-712-8157 in NJ or (215) 932-7850 in PA to schedule your free, no-obligation estimate.