With the return of the warm weather, many homeowners look to the outdoors when they cast an eye to home improvement projects. Options abound: decks, patios and porches are all popular, and they can all boost your home's resale value and livability.
Yet, many homeowners struggle when it comes to committing to one of these options, hemming and hawing over their relative advantages, disadvantages and costs.
To help you reach the decision that's right for your home and your budget, we've complied a quick guide to choosing between decks, patios and porches.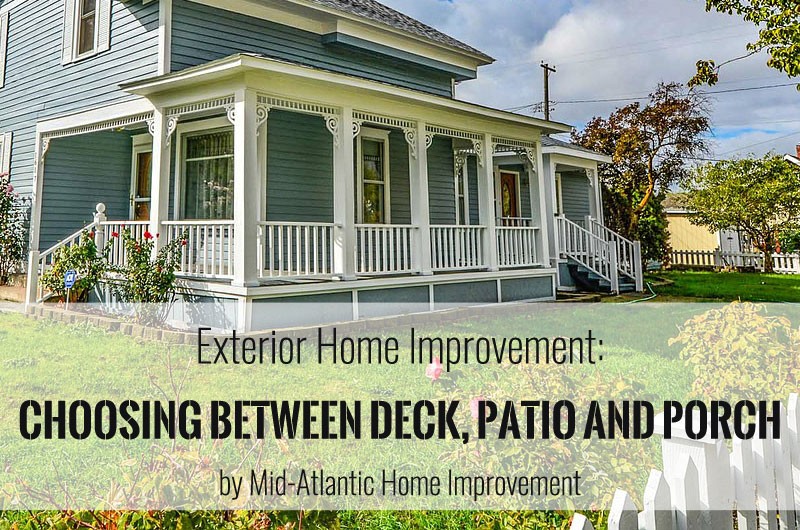 Exterior Home Improvement: Choosing Between Deck, Patio and Porch
Step #1: Set Your Budget
As with any home improvement project, the first thing you should do is set a budget limit. Identify a soft lower limit that represents the amount of money you would like to spend, but has enough flexibility to accommodate the unforeseen surprises that invariably accompany renovations. Then, create a hard upper limit that represents the absolute maximum amount of money you can comfortably commit to the project without jeopardizing your other financial commitments.
As a general rule of thumb, porches are usually the least expensive to build, with patios being second and decks usually being the most expensive option.
If your budget is limited, it may be a better idea to stick with a patio or deck, and use whatever financial flexibility you have to make sure it's well-built and pleasing to the eye. If you've got the means to absorb a more expensive project, move on to considering the pros and cons of each exterior home improvement option.
Step #2: Consider Benefits and Drawbacks
Porches offer the following advantages:
Quick, relatively easy and practical to build
Immediate boost to curb appeal, since they occupy front rather than back yards
Low-maintenance
Can be covered for protection from weather elements
Yet, they come with these drawbacks:
Limited space relative to patios and decks
Lower return on investment (ROI) rates, compared to patios and decks
Do not usually provide an immediate, impactful increase in property resale value
The pros of patios include:
Great ROI rates, with Gallup data indicating they increased a home's perceived value by about 12%
Little to no maintenance
A long life of up to 25 years or more, when properly built using sturdy raw materials like natural stone
Ideal for low-grade slopes and flat yards
Patios also come with these downsides:
Major limitations when dealing with higher-grade slopes and hilly yards
Costs tend to rise significantly when building patios on sloped ground, since slopes need to be filled in prior to construction
Decks are great because:
Decks have excellent ROI rates, increasing perceived home value by about 10%
They are one of the most versatile options, and can be built from a wide range of materials including wood, stone, metal, or composite materials
They are the easiest and most practical option for yards with steep slopes
Beyond their higher cost, decks also come with these disadvantages:
They typically require seasonal or annual care and maintenance, especially if they are built from wood (this can be avoided by installing a composite deck)
Even with proper maintenance, most decks start to wear down faster than patios
Consult a Home Improvement Expert
If you're still unsure which option is right for you, or if you want to compare specific costs, contact a reputable local construction contractor to discuss your situation and obtain estimates. You can ask for comparative estimates that will specify the relative cost of each option and help guide you to the right decision.
Whether you're thinking of installing a deck, patio or porch, careful planning goes a long way. Here at Mid-Atlantic Home Improvement, we can help you turn your dreams into reality. We are a family owned and operated Charlottesville & Culpeper VA home improvement contractor with over 40 years of experience in interior and exterior renovation and construction, and we make it our mission to exceed our customers' expectations and provide exceptional service!

Call (804) 647-0649 or (800) 852-4142 or Request Your Free Quote below
Extend your living space outside
Get your no-obligation quote!