Summer is high season for thunderstorms, with strong winds, lightning, and hail all increasing your risk of suffering property damage.
Storm damage can be a costly problem, and while home insurance policies typically cover most forms of it, there are exceptions and exclusions that can leave you on the hook. That's why it pays to implement some simple but effective prevention strategies while brushing up on best practices for efficient and cost-effective repairs and restoration.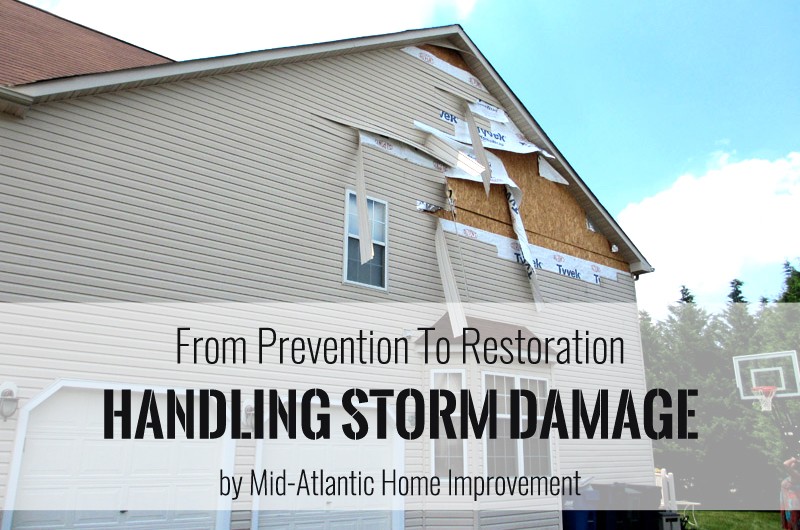 12 Storm Damage Prevention & Repair Tips To Keep In Mind This Summer
Storm Damage Prevention
1. Trim your trees
Heavy overhanging branches are one of the most common causes of storm-related property damage. Keep yours trimmed and well away from the house to reduce your risk.
2. Secure lawn furnishings
Patio tables, chairs, barbecues, and other heavy items should be tied down to make sure they don't get thrown against your siding or windows during a windstorm.
3. Clean your gutters
If your gutters are blocked, rainwater won't be able to drain properly. This can damage your roof and attic. Keep your gutters clean and clutter-free.
4. Upgrade your doors and windows
If you live in an area that's particularly prone to stormy weather, it may well be worth the investment to upgrade to stormproof doors and windows. Shattering glass isn't just damaging; it's dangerous.
5. Inspect your roof
If your roof has existing problems, like loose or missing shingles or other structural weaknesses, you could be in for trouble following a major rainstorm. Have it professionally inspected early in the season, and fix any issues promptly.
6. Clear debris promptly
If a storm has blown through your area and spread debris into your yard, clear it promptly so it isn't hanging around during the next bout of violent weather.
Storm Damage Restoration
1. Contact your insurance company
The current national average for wind, hail, and storm damage is about $7,100. That's a hefty chunk of change that can really eat into your budget if you're not prepared.
If your home has been damaged by a storm, your first step should be to contact your insurance company and open a claim.
2. Document the damage
Once you've contacted your insurance provider, use your smartphone or camera to go around your home and property to document the damage. Documentation is more effective when you also have "before" photos to compare your "after" photos with, so take snapshots of your home's current condition and file them with your insurer now.
3. Treat damaged trees
Damaged trees can pose perilous hazards, especially if their trunks become unstable. Remove loose and hanging branches, and if a tree's trunk has been seriously compromised, you may need to cut it down altogether.
4. Make repairs promptly
Damage to roofs, doors, windows, and structural elements must be repaired as quickly as possible, as they create serious vulnerabilities. The last thing you want is a leaky roof or broken window to allow water to come gushing into your home if another storm hits before repairs are made.
5. Deal with floods and moisture
If your home's interior has been affected by flooding or moisture, remediate it immediately:  wearing protective gear, get rid of water and any damaged items, then clean and disinfect affected areas repairing or removing any toxic structures, preferably with the help of a professional restoration contractor. Otherwise, you may develop a serious and hazardous problem with toxic mold.
6. Contact a professional
Anything other than light damage should be repaired by a professional. Choose a reputable local company that has proven experience with storm remediation.
If you need help repairing your home after a storm, call Mid-Atlantic Home Improvement. We are a family owned and operated Virginia home improvement contractor with over 40 years of experience.

We handle all insurance claims, so you don't have to!

Call (804) 647-0649 or (800) 852-4142 or Request Your Free Quote below
Let Us Handle Your Damage Repairs
Get your no-obligation quote!