Home fires do more than just damage property. They also represent a potentially fatal danger to the occupants. What many people don't realize is that home fire risks are actually higher in the winter.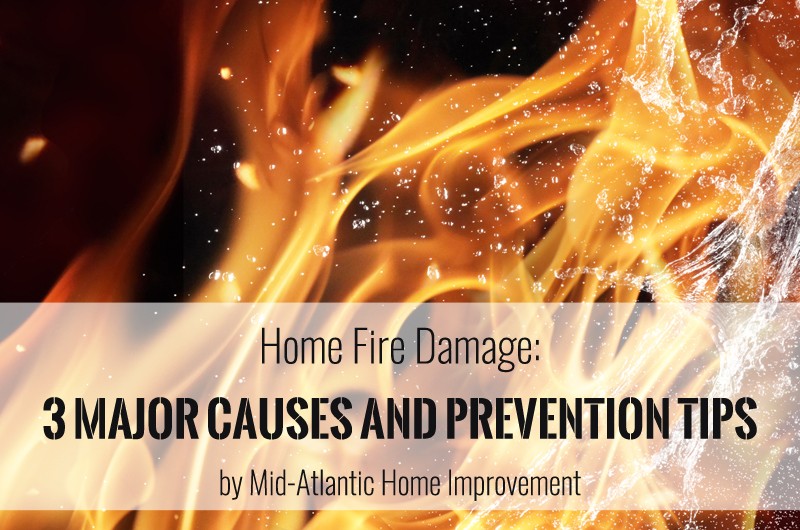 Take steps to protect yourself and your family by understanding the three leading causes of home fire damage and learning a few important prevention strategies to help ensure you don't become a victim.
Home Fire Damage: 3 Major Causes and Prevention Tips
3 Main Causes of Home Fire Damage
While specific statistics vary from state to state, national fire safety experts identify these three causes as the leading culprits behind home fire damage:
Cooking facilities and equipment. According to the National Fire Protection Agency (NFPA), cooking was the root cause of 46 percent of American house fires between 2010 and 2014. While risks are higher on holidays, when cooking facilities and equipment are working overtime, a cooking-related house fire can start just about any time.
Home heating equipment. With heat and fire being a natural combination, it's no surprise that this is another leading cause of house fires. Most heating-related fires are started by space heaters, including both the portable and fixed varieties. Chimneys are another common cause of house fires, and many more are started by leaving flammable items too close to heat sources.
Electrical infrastructure. Electrical failures and the malfunctioning of electrical equipment is another serious hazard that should be on your home safety radar.
By implementing a few easy, common-sense safeguards and solutions, you can dramatically reduce your chances of experiencing a house fire.
Home Fire Prevention Tips to Keep Your Family Safe
Let's look at each of the three common causes of home fire damage and consider the ways in which each of them can be prevented.
Cooking Facilities and Equipment
Here are some ways to avoid cooking-related house fires:
Always keep an eye on your food when you are cooking using an exposed source of heat, such as an electric cooktop or a gas element
If you must leave your food unattended temporarily, turn off the heat until you return
Take a moment to completely clear the cooking area of all flammable materials, such as paper towels and dish cloths, before you start cooking
Ensure that functional smoke detectors are located no more than 10 feet from your main cooking area
Home Heating Equipment
Use these home heating equipment tips to beat house fires:
Use the three-foot rule around all heating equipment: make sure the space around any and all home heating sources has at least three full feet of unobstructed clearance on all sides
Have a professional clean your chimney at least once a year, ideally at the start of the heating season
If you have a fireplace, make sure to set up an effective screen around its opening and ensure that all fires are completely extinguished before you go to bed for the night
Reduce your heat consumption at night to safeguard against the possibility of a fire starting while you're asleep
Electrical Infrastructure
Reduce your risk for electrical fires with these helpful hints:
Review manufacturer specification for the safe operation of electrical appliances, including both low-wattage and high-wattage products, and use only one high-wattage appliance at any one time
Ensure that all appliances have strong, sturdy electrical cords; do not use an appliance that has a weak, damaged, or frayed cord
Make sure that all rooms in your home are serviced by emergency circuit interrupters that will cut power if it reaches risky levels
Have any and all potential electrical problems services by a licensed technician. Old, faulty wiring and outdated infrastructure can also be very hazardous.
It is also important to understand your rights and responsibilities when it comes to home insurance if you ever have to file a fire damage claim with your insurer.
If you need professional help handling fire or water damage repairs, call Mid-Atlantic Home Improvement. Family owned/operated Charlottesville & Culpeper VA home renovation contractor with over 40 years of experience, we are experts at insurance restoration and offer 24/7 emergency service to our Virginia customers!.

Call (804) 647-0649 or (800) 852-4142 or Request Your Free Quote below
We work for you, not the insurance company!
Get your no-obligation quote!