Kitchen renovations are among the most popular home improvement projects. In most homes, the kitchen is one of the busiest rooms, making it an obvious area of focus when the time comes to upgrade. Remodeling the kitchen is also a great way to boost the resale value of your home, and when it's done with care, you can even generate a positive return on your investment in the form of appreciation.
If you've decided to remodel your kitchen, chances are you're looking long and hard at your countertop options. A kitchen's counters are one of its most visible elements, and you'll need a good balance of beauty and practicality, while not breaking the bank. With that in mind, let's take a look at the most popular options to help you narrow down your list of possibilities.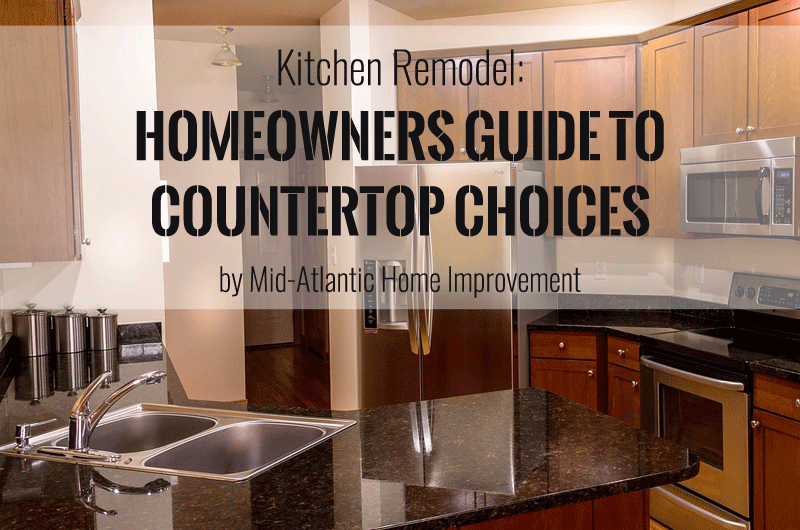 Performance Characteristics of Popular Countertop Materials
It's important to look beyond the surface when evaluating the various materials on the market. A certain option might look great, but it may not be the best fit from a performance standpoint.
Here's the low-down on 10 popular countertop materials:
Bamboo. This environmentally friendly option looks great, especially when it's new. However, moisture can warp it, making it a poor choice for use near sinks. It's also easily damaged and stained, so you'll have to take extra precautions to protect it.
Butcher block. Like bamboo, butcher block isn't a great idea near sinks, as water can damage it. However, it is an economical option for larger areas, especially if you like the look of natural wood. It also has outstanding stain resistance characteristics.
Concrete. Excellent at resisting moisture, concrete is also very stain-resistant. However, heat can damage it, and it can also crack and chip easily. Expensive, but worth the investment if you take care of it.
Granite. This is one of the most popular options for a reason: granite is extremely versatile, and holds up very well under practically all usage conditions. It's also available in a broad range of colors and patterns, making it easy to match with any design scheme.
Laminate. Be sure a cutting board and this economical option will never let you down. Knives will damage it, but otherwise, it holds up well against heat, stains, and moisture.
Limestone. If your counter is serving a more decorative than functional purpose, limestone is worth considering. However, it's not the most practical option for everyday use and heavy wear and tear, as it scratches easily. Limestone does excel at resisting heat, though.
Marble. Another premium option, marble is fantastic as long as you're careful not to chip or crack it…and it tends to chip quite easily, so proceed with caution.
Quartz. Designed to look like stone, quartz is a high-performing option with very few drawbacks. It's easy to care for and maintain, and resists abrasions, chipping, heat, and moisture with ease.
Recycled glass. Another eco-friendly option, recycled glass is prone to chipping, but otherwise, it performs well and is a great way to add a colorful, vibrant feel to any kitchen.
Soapstone. While it can chip, scratch, and stain easily, soapstone is highly resistant to heat and looks dazzling, especially when it's new.
Still not sure? A home renovation expert or professional contractor can help you sift through options and decide which style will work best for you.
Whether you need to upgrade your kitchen, add a bath or paint your interiors, call Mid-Atlantic Home Improvement. We are a family owned and operated Virginia home improvement contractor with over 40 years of experience in residential construction & home improvement.

Call (804) 647-0649 or (800) 852-4142 or Request Your Free Quote
Build the kitchen of your dreams!
Get your no-obligation quote!