Flooding is one of the major causes of mold damage, and any mold in your home must be promptly addressed as it can pose serious health hazards.
Mold feeds on microorganisms that are invisible to the naked eye, as well as many materials that are commonly used in construction. Thus, it is practically impossible to stop them by eliminating their food sources.
Rather, the key to successful remediation is to remove the water sources mold relies on to grow and spread.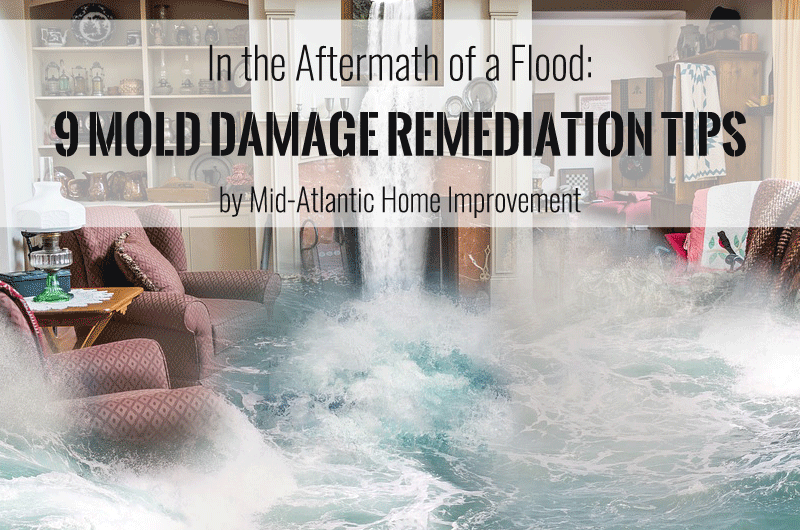 In the Aftermath of a Flood: 9 Mold Damage Remediation Tips
Getting Rid of Mold After a Flood
Here are nine helpful tips, curated from professional remediators, to help guide you if you've got a mold problem as the result of a flood:
Wear an N-95 respirator as you work, along with goggles. These items will ensure you don't breathe in mold spores, or have them come in contact with your eyes.
Begin by addressing all plumbing leaks and problematic plumbing fixtures. You need to take care of any and all water problems in your home before tackling the mold. That means getting the flooded area fixed up and dried out.
Remove all water-saturated items from the area affected by the flooding and dry them thoroughly. It's best to hang-dry such items outside, if possible.
Use a mixture of detergent and water to remove mold from buildups from hard surfaces. Be sure to wear protective rubber gloves so the detergent and water solution doesn't irritate your skin as you work. Once you're done, dry the affected areas using fans and dehumidifiers.
If you have mold buildups in porous materials or materials that absorb water, you will likely have to throw them out. This advice applies to items like ceiling panels, curtains, drapes, and carpets. Mold can easily spread into the empty pockets in such items, making it virtually impossible to eliminate.
Never apply caulking or paint to surfaces that still have live mold on them. Not only will these compounds fail to solve the underlying mold problem, but they will also crack and peel if the mold isn't removed first.
Valuable items and items with sentimental value should be cleaned by an expert. If possible, consult a professional with specialized expertise, such as a furniture repair, art restoration, or carpet cleaning specialist.
Check carefully for signs of mold near your home's HVAC vents and intake points. If mold has contaminated your home's air circulation system, the spores could spread throughout your home and create a much bigger problem.
Mold buildups caused by sewage leaks or floods involving contaminated water require special considerations. Most inexperienced lay people do not have the skills or equipment to address these types of problems, so if this case applies to you, your first step should be to call in a pro.
Call Professionals For Help
While minor cases of mold growth can be addressed in DIY fashion, extensive or severe situations are best left to professionals. It can be difficult and dangerous to your health to attempt to undertake major mold repairs yourself, so if you're unsure of how to proceed or encounter any setbacks along the way, your next move should be to contact an experienced mold removal contractor.
If you need help restoring your home after a flood, call Mid-Atlantic Home Improvement. We are a family owned and operated Virginia home improvement contractor with over 40 years of experience. Whether you need mold removal or water damage handled, we're here to help!

Call (804) 647-0649 or (800) 852-4142 or Request Your Free Quote below
Let Us Handle Your Next Project
Get your no-obligation quote!