With warm temperatures and long hours of daylight, summer is the ideal time to work on a home improvement project, especially those that are going to spruce up your home's exterior.
If you get a prompt start, you'll even be finished in time to enjoy the fruits of your labor before the cool weather makes its inevitable comeback.
Focusing on minor upgrades and energy efficiency that will add appeal and comfort to your home is the smartest thing you can do, especially if you're considering selling in the near future.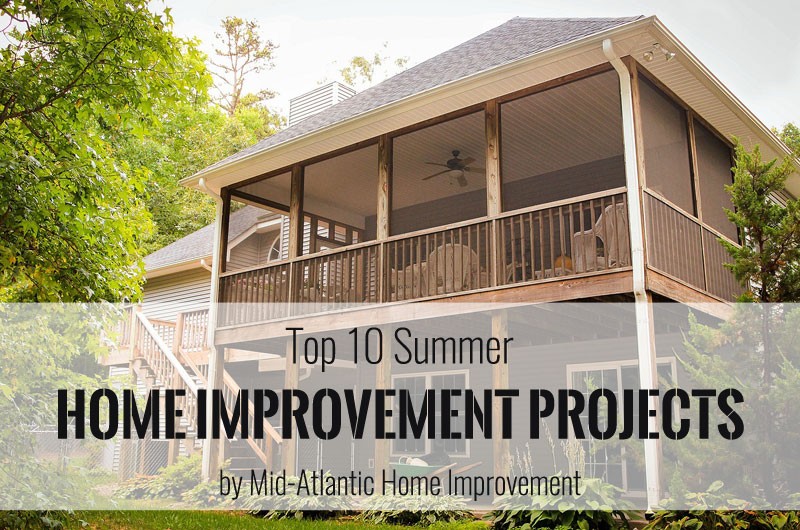 Top 10 Summer Home Improvement Projects
If you're looking for ideas for summer home improvement projects, considering the relative costs of popular home upgrades is a great place to start. That way, you can undertake a project that fits in your budget range and get a jump start on planning future renovations.
Lower-Cost Summer Home Renovation Projects
Looking for a quick upgrade that's easy on your budget? Consider these popular options:
Spruce up your yard: Landscaping is alwasy at the top of every summer home improvement list, and is one of the biggest home improvements that add value to a property. Boosting your curb appeal can be as cheap and easy as laying a new lawn, adding some shrubs and trees and applying a fresh coat of paint to your home's exterior. Spending on landscaping and doing it wisely, you can greatly add to the value of your home.
Update your lighting: Good exterior lighting helps keep your home safe and secure, while improving your home's curb appeal. Add new fixtures, install motion-detecting sensors and sleep easy.
Install a new front door: One of the cheapest, yet most effective exterior changes is as simple as a new front door. Swap your old one out for an energy-efficient, attractive upgrade for just a few hundred dollars.
Summer Projects for Mid-Range Budgets
If you're looking to spend a little more money without breaking the bank, these mid-range projects are excellent:
Install a new HVAC system: This will require an investment of a few thousand dollars, but you'll dramatically reduce your heating and cooling costs for years to come. And if your central air was installed a few decades ago, upgrading to a more efficient condenser will be a treat for both your family and your wallet!
Replace your windows: Swap out your old, drafty windows for dual-pane energy-efficient replacements that help keep cool air in during the summer and prevent warm air from escaping during the winter. Now is also a good time to think about installing curtains, shades, blinds, awnings and window films to help control summer heat gain through windows.
Add insulation: Attic insulation plays an extremely important role in the health of your roof and the overall energy efficiency of your home. Review your home's insulation protection and address problem areas with products that have a suitable R-value for your climate.
Do a minor indoor remodeling: Kitchens and bathrooms are high-profile areas that see a lot of traffic. They both offer a high ROI, and you don't have to break the bank for a high impact result. Invest in a kitchen face-lift: replace your cabinet faces, install new sinks and plumbing fixtures, add a backsplash, update the lighting and add an island. For bathrooms, replacing your dated vanity is always recommended. You'll be glad you did when the time comes to sell your home.
High-End Exterior Upgrades If You Can Splurge
Making a significant investment in home improvement is a major decision, but it's one that can pay off in big ways down the road in the form of a dramatically increased resale value.
With summer being a really good time to take a good look at how you experience outdoor living, ask yourself: What do you love about your back yard? How do you use your outdoor space? How can you improve your outdoor living?
Here are some high-budget projects that can further expand your living space to the outdoors:
Build a porch, deck or patio: Make better use of your outdoor space by adding a covered porch, raised deck or backyard patio (this post will help you choose your best option). Each offers great ROI,
Install a swimming pool: While certainly on the very expensive side of home improvements, this elaborate upgrade will help you make the most of the summer months for as long as you live in your home.
Add outbuildings: If you're running out of space, building a detached garage or shed will solve your storage woes while adding a lot of value to your home.
Install a sunroom: When part of your deck is converted to a screened-in porch or sunroom you can enjoy the summer weather without the mosquitoes. A sunroom will extend the season and keep you sheltered from the elements, and it might just be your favorite part of the house no matter the time of the year!
Hire A Professional Home Improvement Contractor
Summer is the best time to take care of your exterior home improvement projects in order to maintain and enhance your home, but unless you've got extensive construction skills and experience, you'll achieve the best results by working with a professional contractor, especially if you're considering one of the higher-end projects this summer.
Choose a local professional with a proven track record of success in the same kind of work you're planning, but compare quotes and do your research before committing to a single contractor.
Whether you're thinking of installing a deck, replacing windows, or building a shed, investing in a skilled contractor can go a long way. Here at Mid-Atlantic Home Improvement, we can help you turn your dreams into reality. We are a family owned and operated Charlottesville & Culpeper VA home improvement contractor with over 40 years of experience in interior and exterior renovation and construction, and we make it our mission to exceed our customers' expectations and provide exceptional service!

Call (804) 647-0649 or (800) 852-4142 or Request Your Free Quote below
Improve your outside space
Get your no-obligation quote!