As more and more people are looking to save on utility bills and reduce their home's carbon footprint, energy efficient roofs have become increasingly popular in the last decade. And when it comes to energy efficiency of your home, your roofing structure can make a significant impact.
For one, some types of roofs are more energy efficient than others. Additionally, the way a roof is installed will influence whether the heat gains during summer and losses during winter are mitigated efficiently.
If you're looking for a new roof and you want to optimize your home's energy efficiency, it's crucial that you evaluate different types of roofing materials and also shop around for a quality contractor skilled in those materials. This will ensure your new roof will be a great investment for decades to come!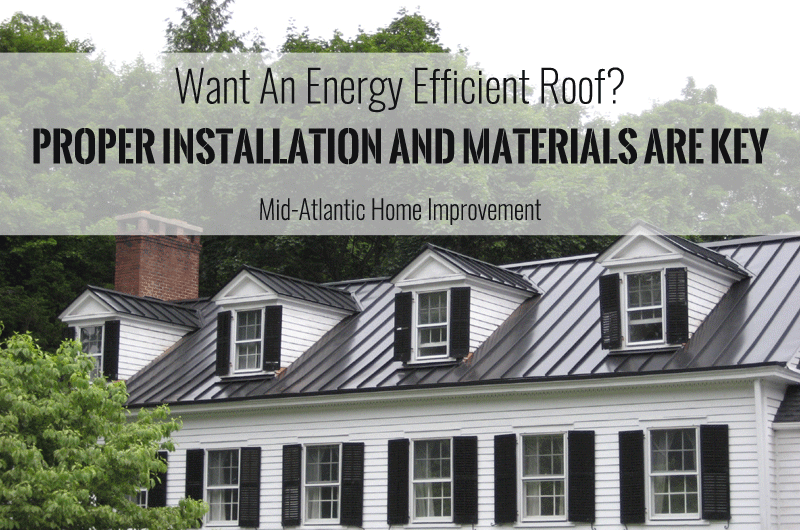 Photo: Standing Seam Metal Roof Installation by LGC Roofing
Choose Energy-Efficient Roofing Materials
Not all roofing materials are made equal when it comes to enhancing energy efficiency. Ideally, you want to choose a roof system/type that creates a strong barrier between your home's interior and the outdoors. This prevents energy losses and helps inhibits the effects of exterior environmental factors.
Conventional roofing materials, like shingles and wood, reflect only a small portion of the sun. Most of the sun's heat is transferred to the sheathing below the roofing material, into the attic and then the rest of the house, requiring air conditioning to work harder. On the other hand, efficient roofing materials reflect 20-80 percent of the sun's rays back, depending upon regional climate, the direction your home faces and the specific material you choose. Less heat is transferred inside, leading to lesser demand put on your house's cooling system, which ultimately saves you money on your energy bill.
Experts recommend metal and slate as best materials for superior energy efficiency.
Metal Roofing
Metal roofs are considered among the most energy efficient types of roofs. They reflect a greater share of the sun's rays and, depending on any coating applied to the metal, homes may see a savings of 20 to 30 percent on air conditioning costs.
Bottom line: steel, aluminum and other metals reflect a great deal of sunlight, plus are fire- and insect-proof and flame retardant, as well as other "green" benefits. Minimal maintenance and superb durability are additional perks you can't ignore!
Tile Roofing
Clay and concrete tile roofs withstand the weather particularly well, offer natural thermal resistance and create a natural ventilation that provides a thermal barrier for heat transfer to the roof deck (since they're installed individually with airspace around the tiles). Additionally, tiles can be painted with a reflective coating further increasing their energy efficiency.
Bottom line: tiles are natural, recyclable, energy efficient and environmentally-friendly, and last 50 years or more!
Reflective Coating
If you're still drawn to the relative affordability of roof shingles, one thing you should do is apply a special reflective coating.
Without a reflective coasting, asphalt shingles absorb upwards of 75 percent of the heat that strikes them – and most of that heat will end up penetrating your home. By contract, shingles treated with a coating reflect about 80% of the heat they're exposed to, boosting home energy efficiency in all seasons.
Bottom line: coating your roof will reduce heat energy costs and increase UV and waterproofing protection for the roof. Additionally, roof coating gives strength and longevity to roofing materials while maintaining the aesthetic appearance of any structure. Cool roofs are sustainable and environmentally friendly too!
Other Materials
Improve roof insulation – poorly insulated attics do not provide a home with the protection required to combat temperature extremes and keep energy costs down.
Build a radiant barrier in your attic – barriers inhibit heat transfer, helping you dramatically reduce heating and cooling costs.
Keep your home well maintained – updating caulking and weather-stripping, replacing heater filters or sealing ducts can go a long way.
Proper Installation Is Key
Professional roof installation is the best way to ensure your roof performs at peak energy efficiency. Shop around for a local quality roofing contractor with experience and expertise in the type of roofing material you decide to go with.
When choosing a roofer, be sure to select an experienced, licensed, and insured company that's local to your area:
Pick few top contractors and collect multiple estimates you can compare.
Ask about both indemnity (liability) and worker's insurance, noting the coverage end dates.
Check the length and types of warranties they provide. Both materials and workmanship warranties can vary greatly, and some roofers offer comprehensive systems warranties as well. A minimum warranty of one year is standard for the roofer's labor, but many roofers offer longer warranties.
Lastly, and this one is important here, make sure that your roofing contractor has a proven experience in installing your particular roofing material – some roofing manufacturers require certification and training in the installation of their products.
And don't forget to check with your tax professional about energy efficiency tax credits too; you may be able to deduct a portion of your roof's cost because you chose to go green!
---
All Roofing Contractors is a Bear DE roofing company with nearly 20 years of experience in residential/commercial roofing, siding, and gutters installation/repair. Call (302) 722-8228 in Delaware or (610) 572-7334 in Pennsylvania to request a free estimate on your next project!