It is important to understand your rights and responsibilities when it comes to home insurance if you ever have to file a fire damage claim with your insurer.
A home fire is traumatic enough on its own. The last thing you want to be worried about is potential problems with your insurance company.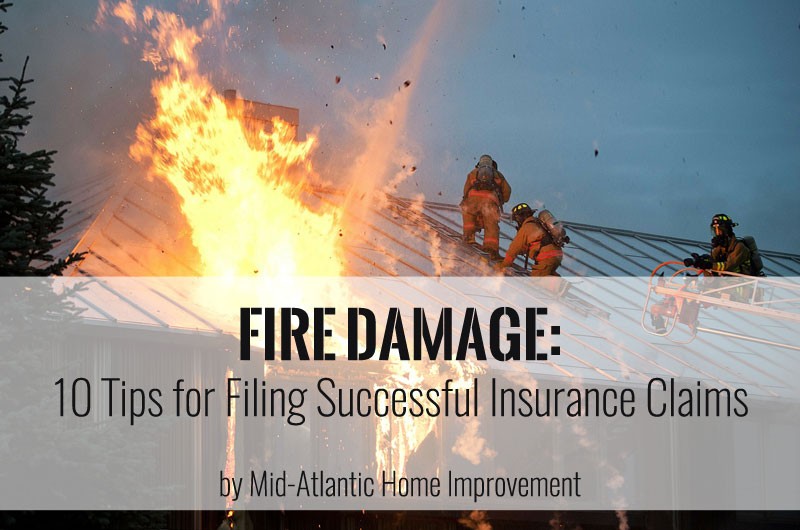 Fire Damage: 10 Tips for Filing Successful Insurance Claims
To help you avoid delays or disputes, here are ten proven tips curated from insurance industry professionals.
#1: Act fast to secure your property
Your insurance company will expect you to take reasonable action to safeguard your property from further possible damage. Ensure all fire embers and smoldered out, and if you have to leave your home, make sure all doors, windows and other possible entryways are secured.
#2: Create a list of everything that's been damaged or destroyed
In addition to making this list, it's also a good idea to document the damage with photographs. If possible, use these photos as part of a "before and after" presentation, and submit them with your claim.
#3: File your claim promptly
Once you've accounted for everyone in the home and you've reached a safe place and contacted the authorities, the next call you make should be to your insurance company. Don't delay.
#4: Keep tabs on your expenses
You may be eligible for reimbursements for expenses incurred as the result of being displaced from your home. Hotels, restaurant meals, and emergency supplies typically qualify. Make sure to keep all receipts related to these expenses.
#5: Gather estimates
Contact reputable contractors and licensed repair and remediation professionals. Get estimates in writing and keep multiple copies so you can present them to your insurer when asked.
#6: Keep paying your insurance premiums
Now is not the time to risk having your home insurance lapse for non-payment of premiums. Make every effort to ensure your premiums are paid in full for the duration of the investigation and claims adjustment period.
#7: Ask for an advance
If you had to vacate the premises on short notice to evade the fire and you're struggling to meet your day-to-day expenses, you can ask your insurance company for an advance. This advance will be subtracted from the final amount of your approved claim, so keep it to reasonable levels and allocate the funds wisely.
#8: Keep your claim open
Some insurance companies try to close fire damage claims as quickly as possible, especially if a fire has affected multiple properties in a localized area. However, this can lead you to settle for less than you deserve. You may have missed something in your haste that you might have discovered and been able to add to your claim if it was still open. Open your claim as soon as possible, and keep it open until you are certain that nothing has been overlooked.
#9: Contact a public adjuster
Public adjusters effectively serve as arbitrators between claimants and insurance companies. If you feel you aren't being offered a fair settlement, contact a public adjuster to discuss your case.
#10: Don't worry about future premiums
As long as your claim is legitimate and you haven't made any attempt to defraud the insurance company, you probably won't have to worry about your premiums going up or your insurance being cancelled. Your policy will remain in place, and your rates won't rise if the fire wasn't your fault.
If your insurance claim is contested or denied despite your best efforts and you believe the insurance company is not acting in good faith, you have options. Speak to an attorney specializing in residential insurance claims, or contact the office of your state's insurance commissioner to access local resources.
If you need professional help handling fire or water damage repairs, call Mid-Atlantic Home Improvement. Family owned/operated Charlottesville & Culpeper VA home renovation contractor with over 40 years of experience, we are experts at insurance restoration and offer 24/7 emergency service to our Virginia customers!.

Call (804) 647-0649 or (800) 852-4142 or Request Your Free Quote below
We work for you, not the insurance company!
Get your no-obligation quote!