Basements are the most flood-prone areas of a home, with major causes of basement flooding including foundation problems, severe storms and sewer backups.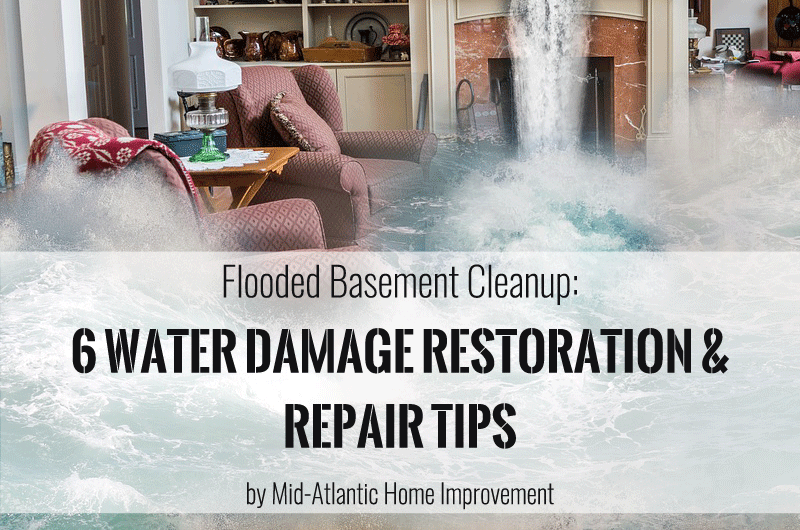 Widespread water damage can be difficult to properly repair using DIY techniques, and in such cases, it's generally a better idea to hire an experienced restoration contractor to do the job.
Minor water damage caused by slight flooding, however, can usually be remedied on your own, especially if you keep the following considerations in mind.
Flooded Basement Cleanup: 6 Water Damage Restoration & Repair Tips for Homeowners
#1: Get Protective Gear
If water has been in the basement for any length of time, you'll need to protect yourself against the dangers posed by bacteria and the toxic mold that can form in highly humid and moist indoor areas. These health risks can be serious, so be sure that everyone working in the basement has personal protective gear (PPG), including face masks, gloves, and proper footwear.
#2: Disconnect Your Electricity and Remove Damaged Items
Water and electricity are a deadly combination. Before you start your repair tasks, cut your home's power supply, then start by removing damaged or sensitive items, including:
Electrical appliances
Furniture
Storage boxes
Anything else that has been damaged
#3: Get Rid of the Water
You have three major options when it comes to getting the water out of your basement. The first method is the old-school approach: remove it manually, using buckets, mops, and towels. This can be time-consuming and labor-intensive, but it is the least expensive.
Alternately, if the situation allows, you can rent a wet-dry vacuum. However, you need to be very careful, as this will require that you turn the electricity back on so the vacuum has a power supply. Plug the wet-dry vacuum into a socket that is far away from any standing water. Be extra cautious with extension cords, as they could short-circuit, causing a potentially serious shock. Most experts recommend avoiding extension cords altogether in these situations.
If a wet-dry vacuum isn't an option, you can also rent or purchase a sump pump. Once you've removed the water, set up a dehumidifier and use fans to dry things up.
#4: Clean and Disinfect Affected Areas
After all affected areas are completely dry, you can move into the clean-and-disinfect phase. You may need specialized cleaners that will be available at local DIY retailers. You're aiming to wipe out bacteria as well as any mold that may have gained a foothold in the moist, humid conditions.
Treat any area that was affected by the flooding, including walls and furniture. Upholstered furniture doesn't generally recover well after a flood, and it may need to be discarded.
#5: Get Rid of Structures That Cannot be Repaired
Bacteria and toxic mold are more likely to grow in problematic quantities if they have a food source, and if conditions are right. Damaged walls, wood, furniture, and other items can all potentially contribute to their growth, so any element that cannot be repaired should be removed from your home.
In some cases, this can involve demolishing walls and other interior structures. If the scope of the project is too large for you to handle, consult a professional specializing in basement renovations & repairs, and talk to your home insurance provider to see if floods are on your list of covered perils. Many contractors will even handle insurance claims for you!
#6: Protect Your Basement From Future Flooding
An ounce of prevention is worth a pound of cure, and that is especially true when it comes to basement flooding.
Some tips that will go a long way towards preventing a future flood include:
placing a vent or hole in the the basement wall where where flooded water can flow out such as by the basement windows
installing a sump pump
installing a check valve for backup sewer
keeping your rain gutters clean and extending rain gutter downspouts so that rain water is carried further away from home
hiring an excavation contractor to regrade your yard, so that water is properly directed away from your home
maintaining your plumbing to make sure your pipes don't leak or burst
investing in a solid flood insurance plan so that you're financially protected
Also, always store important and valuable items in higher places, making widespread use of waterproof storage bins, and stay vigilant about your spring cleaning every year to reduce clutter.
If you need professional help handling fire or water damage repairs, call Mid-Atlantic Home Improvement. Family owned/operated Charlottesville & Culpeper VA home renovation contractor with over 40 years of experience, we are experts at insurance restoration and offer 24/7 emergency service to our Virginia customers!.

Call (804) 647-0649 or (800) 852-4142 or Request Your Free Quote below
We work for you, not the insurance company!
Get your no-obligation quote!