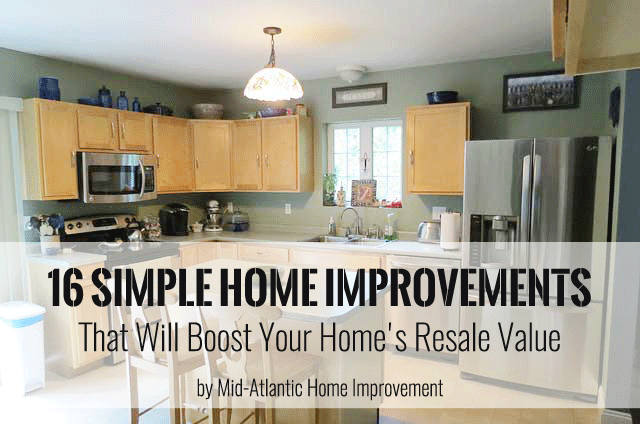 Whether you are looking for a great way to make your home more appealing to potential buyers or simply seeking a property value boost, we've got 16 simple yet effective home improvements for you to consider.
16 Simple Home Improvements Boosting Your Home's Resale Value
6 Easy Ways to Enhance Curb Appeal
Does your home look attractive, welcoming and structurally sound at first glance?
Experts generally recommend focusing first on the home's curb appeal before moving inside to make upgrades to important elements that attract the attention of home buyers. Here are 6 tips for enhancing the appearance of your home's exterior:
Upgrade your landscaping. Overgrown or patchy lawns and outsized bushes will cause your home to stand out — in a bad way. Mow (and re-patch) the lawn, trim the hedges, and add a few evergreen shrubs or perennials for year-round structure and color. Choose plants native to your region and plants that are drought-tolerant – they will require less maintenance and water.
Update the small things for big bang. A nice door hardware implies yours is a solid and stable home. And while you're at it, paint the door with a fresh coat for an instant upgrade. Additionally, a new mailbox, updated house numbers and spruced-up light fixtures lend your home a touch of newness and novelty that can make a major difference in a buyer's first impression.
Install energy efficient windows. If upgrading your windows is not an option, a fresh coat of paint can make a nice impact. Replacing your worn out shutters is another simple upgrade you can do inexpensively.
Create outdoor living spaces. In the backyard, outdoor living spaces like decks and patios tend to score big points with buyers while increasing your overall living space. Pergolas, fire pits and fireplaces rank high as well.
Repair the gutter. Ensuring that your gutter is clean and well maintained is crucial in protecting your home against water damage.
Clean things up. Tired masonry, wood and siding can be revived with power washing. Giving your home's exterior and paved areas a power wash can be nearly as dramatic as repainting, for a much lower cost.
Curb appeal has a major impact on a home's resale value, and you only get one opportunity to make a dynamic and effective first impression.
10 Interior Upgrades That Add Instant Value
Moving inside, use these 10 additional tips to generate a strong ROI:
Upgrade your kitchen. For maximizing your home's value, kitchen updates are key. Change the paint, add a splash of color with a new backsplash, replace the kitchen faucet set, reface the cabinets, add new cabinet door handles and update old lighting fixtures with brighter, more energy-efficient ones.
Upgrade kitchen appliances matching them for unified look (for best result go stainless steel). Adding new, energy-efficient appliances can entice buyers to make offers. Energy Star-rated appliances are better for the environment, and they also help you save money – and potential buyers often look for ways to save money when shopping for a new home.
Do partial bathroom renovations. Reface an old bathtub, freshen things up with new grout, replace a toilet seat, install a new vanity and add a new light fixture rather than doing a complete overhaul of the bathroom.
Add a bathroom. If your home only has one bathroom, you can add a lot of value by building a second bathroom, all while getting 90%-130% return on investment.
Add a bedroom by reinventing an existing space. Finish a basement, convert a loft, den or attic to a bedroom for instant value boost.
Re-paint. One of the simplest, most cost-effective improvements of all is paint! Freshly painted rooms look clean and updated — and that spells value.
Add storage. Install do-it-yourself wire and laminate closet systems to bedrooms, pantry, garage, entry closets and other underused spaces to increase storage space, so often lacking in older homes.
Spruce up the wallpaper. Update the wallpaper, but keep things neutral and understated.
Clean up – a bright and sparkly home can attract buyers like a magnet. Hire a professional cleaning service to scrub your home from top to bottom. Invest in professional carpet cleaning service to instantly and inexpensively spruce up your carpets. And remember, de-cluttering is a form of cleaning too.
Improve insulation. Secure the building envelope with high-quality insulation with appropriate R-values for your local climate. This boosts energy efficiency, which is a key area of concern for many homeowners. Seal cracks around the house to save even more money on energy costs, and to make your home more appealing to buyers.
A relatively small investment of time and money can translate into thousands of dollars in added profits. If you're planning to sell your home in the near future, be sure to complete important upgrades before you start to market your property. Make a strong first impression and you're likely to see more offers, and better ones to boot.
If you need professional help, call Mid-Atlantic Home Improvement. We are a family owned and operated Charlottesville & Culpeper VA home improvement contractor with over 40 years of experience.

Call (804) 647-0649 or (800) 852-4142 or Request Your Free Quote below
Build a home you want
Get your no-obligation quote!