Water damage is a major headache that often necessitates costly repairs. Aside from immediate damage it creates, it can also lead to serious problems later on, including toxic mold and problems with your home's structural and foundational elements.
However, the good news is that most types of water damage are preventable. You can even take action to reduce the chances of suffering serious damage as the result of something you can't prevent, such as a flood or backed-up city sewer.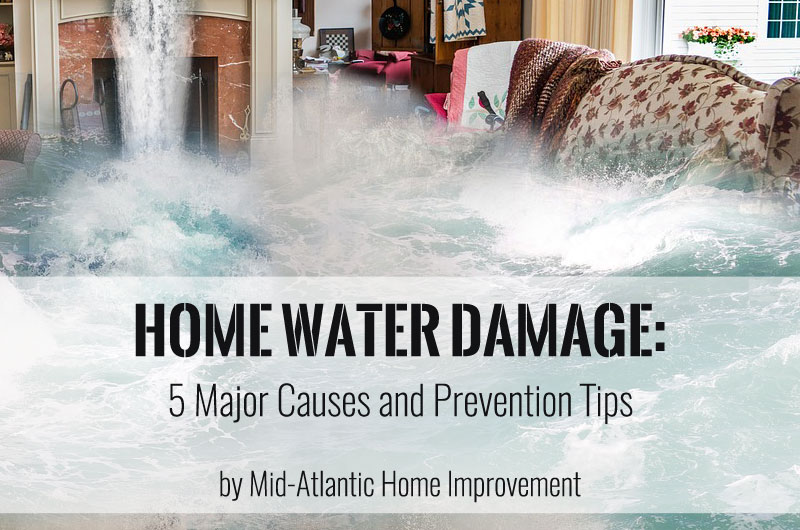 5 Most Common Types of Water Damage and How to Prevent Them
Water damage can be dangerous and expensive, so preventing it is an important part of home maintenance. No matter the type of damage, there are numerous things your can do to protect your property.
#1. Floods
Floods caused by natural events such as major storms are among the leading culprits when it comes to home water damage. While nobody can control Mother Nature, there are several things you can do to safeguard against storm-related flooding:
Keep valuables off the basement floor. Most storm-related floods affect basements. As such, it's not a good idea to keep valuable items, like high-end furniture and electronics, in these areas of your home. This is particularly true if you live in a flood-prone geographic region.
Raise your electric sockets. Flood damage will wreak havoc on affected parts of your home's electrical system. One strategy is to elevate the position of the electric sockets in your basement. Instead of placing them near the floor, move them higher up on the wall.
Install a basement sump pump. A battery-powered basement sump pump will help you clear water in the event of a flood.
Put indoor/outdoor carpeting in basements. Use stone, tile, sealed concrete, waterproof wallboard and other water-resistant building materials in areas prone to flooding.
Seal foundation cracks. Water in the foundation can cause serious damage to your home's structure. Make sure that the grounds around the house slope away from the home to keep water from the foundations and basement.
#2. Burst pipes
Burst pipes can be a major problem, especially during the winter months. Water can freeze inside the pipes, causing expansion that can lead to a burst…and thousands of dollars' worth of water damage. The good news is there's an easy three-step method to avoid such a situation:
Set your water thermostat to 60 degrees Fahrenheit (16 degrees Celsius)
Turn on your faucets ever so slightly, so any water in your pipes will drip out
Once your pipes are empty, insulate all exposed pipes to help trap heat inside so water will not freeze.
Fix and replace leaking pipes, clogged drains, and malfunctioning drainage systems immediately.
Check washing machine and dishwasher hoses to make sure that they aren't cracked.
#3. Water heater failures
Water heater failures usually result from slow leaks or bursts inside the water tank. Performing regular routine maintenance is the best way to avoid these problems.
Have your water heater regularly serviced by a qualified technician, and flush out built-up sediment on a regular basis according to manufacturer guidelines. Consult your owner's manual for specifics.
Replace your aging water heater – if your water heater reaches its life expectancy, the risk of a slow leak or sudden burst increases.
#4. Roof leaks
Roof leaks are another common culprit of home flooding, and you can avoid them by being vigilant about possible problems with your roofing and performing regular maintenance of your roofing system.
Every spring and fall, you should perform a detailed inspection of your roof, noting any areas where shingles or roofing elements show signs of wear. Have them repaired promptly.
Replace shingles that are coming loose, and pay extra attention to areas around the chimney and vents.
Do the same if you notice leaks coming from your roof, even if you didn't notice signs of damage during your inspection. Something may have eluded your eye, and a professional can help diagnose and solve these problems.
Use galvanized or stainless-steel nails and fasteners.
Make sure that gutters drain water away from the house, and that all the joints are all properly sealed.
#5. Toilet and drain backups
Finally, beware of toilet and drain backups. Regular inspections and preventative maintenance will help you avoid problems with your toilets and drains.
Check your toilet's supply valve, supply line, and flush valve at least once a year, and replace any components showing signs of wear.
Act promptly if any of your home's toilets stop functioning normally.
With drains, do periodic checks to make sure water isn't clearing unusually slowly. If it is, something is likely clogging your drain. Drain cleaners are readily available at home improvement stores, and they'll help in most situations.
For persistent problems, or for issues that you can't readily solve using frontline techniques, contact your local plumber.
If Water Damage Has Occurred…
If you have water damage in your home, there's a series of steps you need to follow to solve your problem. These include identifying the source of the damage, fixing that problem and then dealing with the water damage itself.
If you've been affected by water damage, you will be dealing with your homeowner's insurance. Here are few tips:
call your insurance agent right away,
list all of your damaged property before beginning the cleanup process, including pictures if possible,
keep receipts for all of your cleanup supplies and any services that you hire,
know that flood damage is not covered under homeowner's insurance, you will need flood insurance purchased separately,
additionally, not all water damage is covered by insurance, especially if the damage resulted from lack of proper maintenance or was ongoing but ignored.
In the aftermath of water damage, hiring a quality contractor is the best way to ensure your water damage gets fixed right, the first time, every time. For immediate help, call Mid-Atlantic Home Improvement, a family owned/operated Charlottesville & Culpeper VA home renovation contractor with over 40 years of experience. We are experts at insurance restoration and offer 24/7 emergency service to our Virginia customers!.

Call (804) 647-0649 or (800) 852-4142 or Request Your Free Quote below
We work for you, not the insurance company!
Get your no-obligation quote!