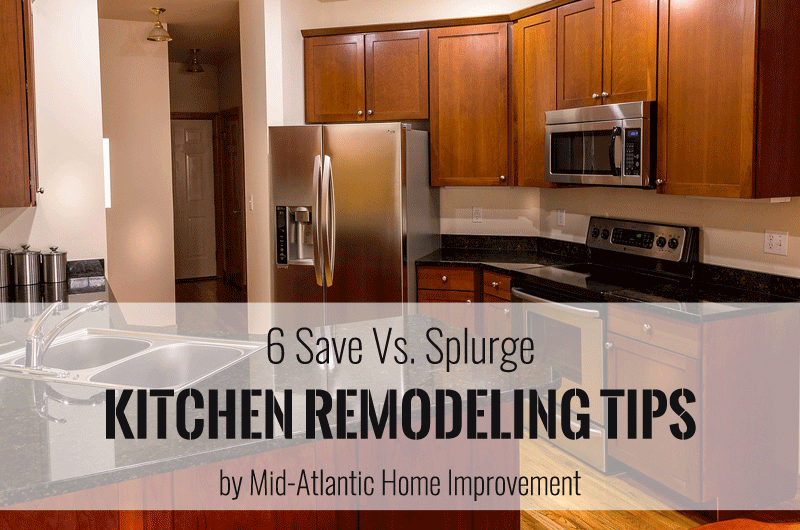 Budgetary constraints often force homeowners to make difficult renovation decisions, particularly while remodeling the kitchen.
One common strategy to extract maximum value from limited resources is the "save versus splurge" model, which stresses high-impact but economical choices for the majority of the kitchen's elements while reserving funds for a few key splurge items.
Planning the renovation then becomes a matter of deciding where to save and where to splurge.
6 Save Vs. Splurge Kitchen Remodeling Tips
Here are some proven tips, culled from a cross-section of home renovation experts:
1. Plan with care. Take a big-picture view during the planning process. Don't commit resources to any single area, such as appliances, counters or cabinets, before performing a thorough analysis that takes all the elements to be renovated into careful account. Once started, avoid changing your mind. Choose timeless style for a kitchen that never expires , especially if you're planning on selling in the near future – natural stones and neutral-colored tile work and sell well.
2 Identify what's important. If you're looking for a good return on investment, bigger is not necessary better. Mid-range kitchen upgrades fair much better than over the top overhauls.
Instead of simply indulging your desires, focus on what's important to you and your family. Foodies and avid cooks can justify and investment in professional-grade ovens and cooktops to boost the kitchen's functionality. If aesthetics are a primary concern, leave more room in the budget for premium-quality cabinets, countertops and other elements that draw the eye. And for busy families the priority might be functionality or more storage. Bottom line: Your remodel should center around your unique needs and style, not the latest trend.
3. Research appliance options. While it's important to balance appliance spending against elements like counters, cabinets and flooring, the key is to consider factors like warranty protections and energy efficiency alongside the actual up-front cost of appliances.
Buying higher-quality appliances that use less energy can save money in the long run – aim for unified look that adds appeal. Stainless steel appliances can also add value when it comes to attracting future buyers.
4. Invest in visibility. As a general rule of thumb, the more visible a particular element is, the more consideration it should get as a potential splurge item. The condition of the kitchen has a major impact on a home's resale value, so investing in elements that garner the most visual attention can really pay off down the road.
Things like countertops and cabinets are often the first thing people see when they enter your kitchen and so those elements deserve extra attention. If your cabinets are still in good working order and the layout works well, you can restore, repaint or replace doors. Resurfacing your old cabinets can save a lot of money while still dramatically changing the look of your kitchen. And if you have an island, choose a statement surface like granite with a beautiful pattern, while installing laminate everywhere else.
5. Save on floor. By and large, functionality outranks visual appeal in importance when it comes to kitchen flooring – so this is one aspect of a kitchen remodel where it's smart to save. That being said, choose a waterproof, low-maintenance and economical flooring option with neutral visual characteristics. There are tons of options—reclaimed wood, porcelain, bamboo, engineered cork, luxury vinyls, rubber—that won't break the budget.
6. Splurge on accessories and accentuations. While it isn't generally the wisest idea to invest heavily in accessories and accentuations, sometimes the smallest items can add the biggest bang. Knobs, pulls and handles can refresh the look of an entire kitchen for cheap. An attractive sink and faucet, under-cabinet lighting fixtures or a stunning window treatment are all great ways to add value without braking the bank.
While there are endless ways to apply the "save versus splurge" model, keeping its general principles in mind is a good idea when drawing up a renovation plan and setting a budget.
Professional guidance can also illuminate many other possibilities, so don't hesitate to discuss your ideas with a contractor if you're not going the DIY route.
Whether you need to upgrade your kitchen, add a bath or paint your interiors, call Mid-Atlantic Home Improvement. We are a family owned and operated Virginia home improvement contractor with over 40 years of experience in residential construction & home improvement.

Call (804) 647-0649 or (800) 852-4142 or Request Your Free Quote below
Build a home you want
Get your no-obligation quote!